If you have a library account in good standing, you can check out an OverDrive e-Book title or access our remote databases. Don't have a library account? Texas residents can register for a library account from home! Learn more about how to register from home.
Below are eBooks that may help you with your research regarding estate planning and wills.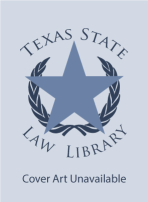 Stevenson's Legal Forms & Practice Guide for Texas (LoisLaw)
Stevenson's provides legal forms and commentary in more than 23 practice areas. Wills, trusts, and estate planning are covered in Chapter 23.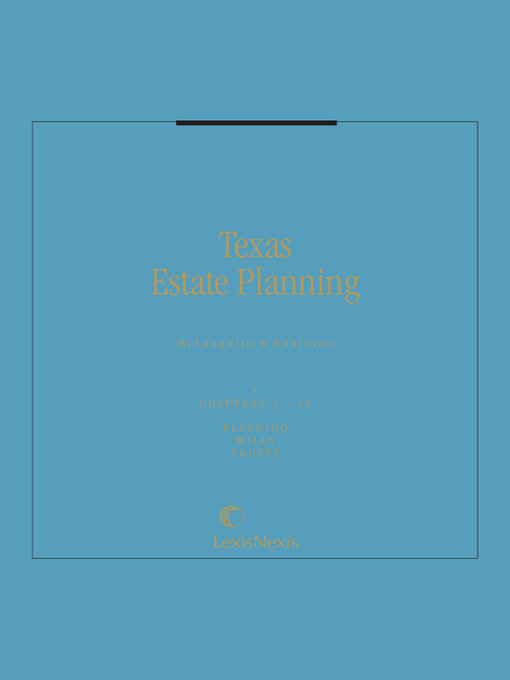 Texas estate planning
Call Number: KFT 750 T4
Publication Date: 2013
Designed for the estate and probate practitioner, this title covers planning, drafting, and interpretation of Texas wills, testamentary trusts, revocable inter vivos trusts, irrevocable trusts, durable powers of attorney, and more. The title contains commentary on current federal and state statutory and case law, including recent changes in the Texas Probate Code regarding declarations of guardians.
Everything Wills and Estate Planning Book, The
ISBN: 9781440521430
Publication Date: 2009-05-18
A "how-to" guide for individuals needing assistance with end-of-life decision planning. Advises readers on: creating an estate plan, understanding probate, drafting a will, having a power of attorney, creating a trust, and paying taxes.
General Resources at the State Law Library
These titles provide a general introduction to the United States law on the topic. See the Texas specific publications in the box below. The resources on the "Practice Aids" tab provide more in depth coverage.
Elder law in a nutshell
Call Number: KF 390 A4 F752
ISBN: 0314926011
Publication Date: 2010
This book provides a brief overview of elder law. Topics covered include, ethical considerations, health care decision making, Medicaid, SSI, guardianship alternatives, pension plans, and elder abuse and neglect.
Legal guide for Americans over 50
Call Number: KF 390 A4 A54
ISBN: 9780375721397
Publication Date: 2006
"Everything about the law and Medicare and Medicaid, retirement rights, and long-term choices for yourself and your parents."
New times, new challenges: law and advice for savvy seniors and their families
Call Number: KF 390 A4 H443
ISBN: 9781594607370
Publication Date: 2010
This accessible overview of end-of-life issues covers the spectrum of concerns everyone can expect if they "should live so long."
You and your aging parents
Call Number: KF 390 A4 Y67
ISBN: 9780375723018
Publication Date: 2009
This book focuses on the issues affecting the elderly. It's a reference guide for caregivers that offers practical guidance on navigating legal issues, developing a care plan, choosing housing options, making healthcare decisions and helping your parents manage a changing lifestyle. Some of the topics discussed are money matters, in-home assistance, transportation, and protecting your parent.
Texas Specific Resources at the State Law Library
These titles provide a general introduction to the topic. Please click on the Practice Aids tab for more in depth coverage.
Save my home: saving your home, farm or ranch from Medicaid estate recovery in Texas
Call Number: KFT 390 A4 S28
ISBN: 976688030
Publication Date: 2005
"An overview of Medicaid estate recovery in Texas and opportunities for saving your home, farm, or ranch from Medicaid nursing home reimbursement claims."
The senior Texan legal guide
Call Number: KFT 390 A4 P74
ISBN: 9780963873354
Publication Date: 2007
"Use this book to gain general background knowledge and then seek individualized legal advice from your attorney."
Elder law covers a wide variety of issues because it deals with every area of living, as well as planning for the possibility of disability and death.
Forms for Making Your Medical Care Wishes Known
Having your medical care wishes down in writing can help ensure they are carried out.
Wills and Estate Planning
These resources can help you understand and control what happens to your possessions after your death.
These resources help you investigate options for long-term care.
Long-Term Care Quality Reporting System

The Department of Aging and Disability Services (DADS) offers the information in this website to help you evaluate the quality of long-term care services.

Long-term Care Resources

The Texas Department of Insurance maintains this webpage of information on long-term care. The page includes information on long-term care insurance and links to resources for elders and caregivers.

Selecting a Nursing Home

The Texas Attorney General has many helpful online brochures for consumers. This title includes numerous links to additional information on aging issues.
Resources for handling the legal implications of major illness.
Funerals and Disposition of Remains
These resources can help you understand and control what happens to your "earthly remains."
Legal Research Guides from the Texas State Law Library
The Texas State Law Library reference librarians have compiled legal research guides for specific areas of the law. These guides contain resources that can help you research a legal issue. The American Association of Law Libraries has a guide for Non-Lawyers on How to Research a Legal Problem. If you have any questions, please contact us at (512) 463-1722 or at library@sll.texas.gov.
Important:
The information provided on this page has been prepared for general information purposes only and should not be construed as, nor substituted for, legal advice. It is strongly recommended that you contact an attorney for advice specific to your fact situation. Your local bar association or the State Bar of Texas Lawyer Referral Information Service (1-800-252-9690) can assist you with locating an attorney.
Some of the electronic resources we refer to in this guide may be in PDF format.
Adobe Reader
or similar software is required to view PDFs.