If you have a TexLaw ID, you can check out an OverDrive eBook title or access our remote databases. Don't have a TexLaw ID? Texas residents can register for a TexLaw ID from home! Learn more about how to register from home.
Below are some eBook titles that may help you with your research on eminent domain.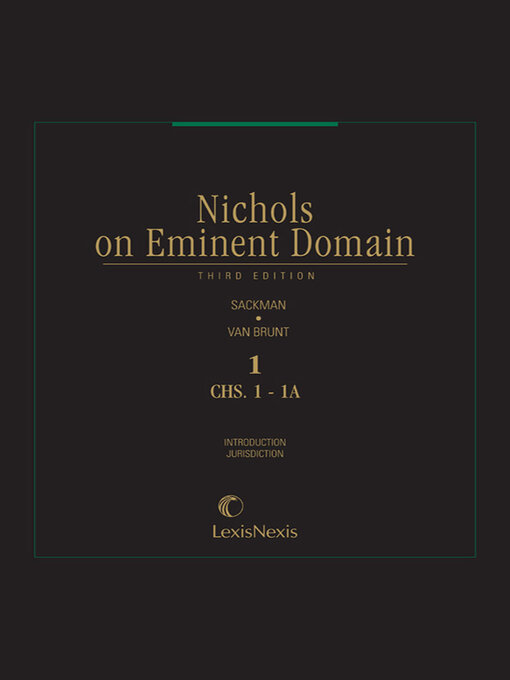 Nichols on eminent domain
Call Number: KF 5599 N5
Publication Date: 2014
Our federal and state constitutions assert that no person may be deprived of property without due process. This exhaustive 18 volume treatment discusses every aspect of the government's power to take private property for public use the due process protections.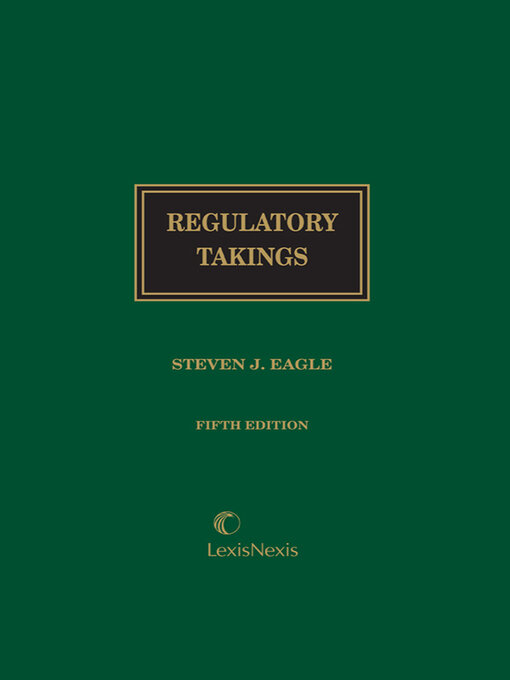 Regulatory takings
Call Number: KF 5599 E18 2012
Publication Date: 2013
The term "regulatory takings" does not yet have a clear legal definition. This volume discusses distinction between the government's right to "regulate" private property, and the need to refrain from regulating to the extent that the land is effectively "taken".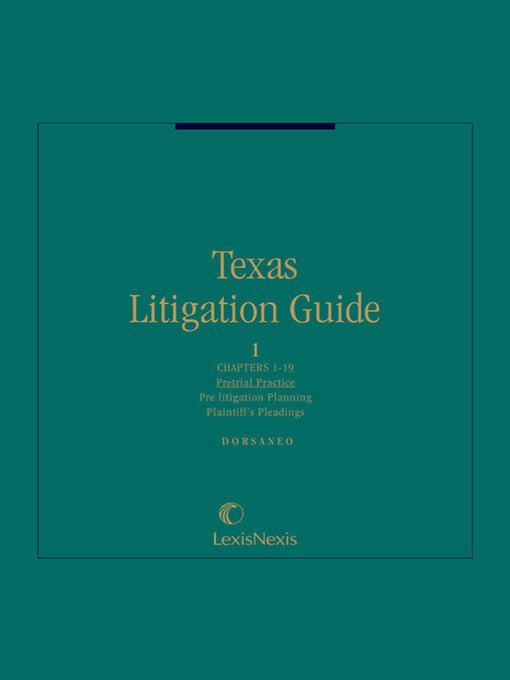 Texas litigation guide
Call Number: KF 170 D6
Publication Date: 2014
This comprehensive set explains the law and procedure in a given area and then provides drafting guides to prepare the forms. The set is divided into 10 different units: Pretrial Practice, Trial Practice, Appellate Practice, Pleadings in Business Entity Litigation, Pleadings in Commercial Litigation, Pleadings in Real Estate Litigation, Pleadings in Personal Injury Litigation, Family Code Litigation, Probate Code Litigation, and Administrative Proceedings. Chapters are divided into four parts: legal background on a topic, a drafting guide, forms, and a research guide.
Resources at the State Law Library
Below are some of the library resources that can provide further guidance on this topic. The Texas State Law Library has many other resources in addition to the highlights we present below. Please call us at (512) 463-1722 if you have any questions about these materials.
Eminent Domain: A handbook of condemnation law
Call Number: KF 5599 E468 2011
ISBN: 9781614380986
Publication Date: 2011
This volume from the American Bar Association explores recent developments in eminent domain law. Topics covered include public use and public purpose, compensation, taking damages, severance damages, the litigation process, flooding and erosion, and inverse condemnation. A fifty-state survey of public use standards is also included.
Bulldozed: "Kelo," Eminent Domain, and the American Lust for Land
Call Number: KF 5599 M35 2007
ISBN: 9781594031939
Publication Date: 2007
This book was written to inform the public of the current issues surrounding eminent domain in this country. It starts with the story of the Gore family in Freeport, Texas and then continues to discuss other recent eminent cases including Kelo.
Eminent Domain Use and Abuse: Kelo in Context
Call Number: KF 5599 E44 2006
ISBN: 9781590316382
Publication Date: 2006
This title contains ten essays that review the overall impact that Kelo v. City of New London had on permissible public use and eminent domain law in general. A CD-ROM also contains court decisions, parties' briefs, and amicus briefs for Kelo v. City of New London as well as site plans and maps, photographs, and Justice Steven's speech after the Kelo decision.
If you need help with a reference question, you may ask a librarian...