If you have a TexLaw ID, you can check out an OverDrive eBook title or access our remote databases. Don't have a TexLaw ID? Texas residents can register for a TexLaw ID from home! Learn more about how to register from home.
Below are some eBook titles that may help you with your research on hiring and firing your lawyer.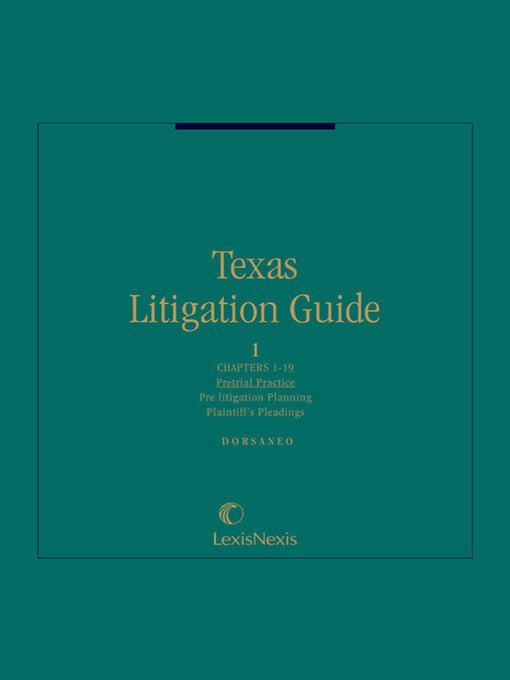 Texas litigation guide
Call Number: KF 170 D6
Publication Date: 2014
This comprehensive set explains the law and procedure in a given area and then provides drafting guides to prepare the forms. The set is divided into 10 different units: Pretrial Practice, Trial Practice, Appellate Practice, Pleadings in Business Entity Litigation, Pleadings in Commercial Litigation, Pleadings in Real Estate Litigation, Pleadings in Personal Injury Litigation, Family Code Litigation, Probate Code Litigation, and Administrative Proceedings. Chapters are divided into four parts: legal background on a topic, a drafting guide, forms, and a research guide.
Resources at the State Law Library
While it is generally best to exhaust every possible avenue to resolve disputes with your lawyer, case law has established that a client may discharge his attorney at any time. Here are sources that may be helpful if the relationship cannot be resurrected. Below are some of the library resources that can provide further guidance on this topic. Please call us at (512) 463-1722 if you have any questions about these materials.
O'Connor's Texas Rules, Civil Trials
Call Number: KFT 8816 A2
ISBN: 9781598392081
Publication Date: Annual
Chapter 1 Section H:7.1 is entitled "Termination by Client."
Legal troubles can be confusing, frustrating, and overwhelming. It can stress all your relationships, including the one you have with your attorney. This guide begins with information on how to go about hiring an attorney and how to work effectively together. In the event you become unhappy with your attorney, we include information on formal and informal ways to resolve common complaints. If you feel you can no longer work with your attorney, information on how to fire your attorney is also included.
Hiring and Working with an Attorney
Choosing a lawyer you feel confident in and comfortable with is the first step to a good working relationship. These sources discuss how to go about your search for an attorney and how to work effectively with them.
The Texas Young Lawyers Association provides a great publication that discusses complaints, grievances, malpractice, and the disciplinary process. And the State Bar of Texas provides official channels to help you work out your disagreement with your lawyer.
These resources help you consider whether to request your attorney withdraw from representing you.
Legal Research Guides from the Texas State Law Library
The Texas State Law Library reference librarians have compiled legal research guides for specific areas of the law. These guides contain resources that can help you research a legal issue. The American Association of Law Libraries has a guide for Non-Lawyers on How to Research a Legal Problem. If you have any questions, please contact us at (512) 463-1722 or at library@sll.texas.gov.
Important:
The information provided on this page has been prepared for general information purposes only and should not be construed as, nor substituted for, legal advice. It is strongly recommended that you contact an attorney for advice specific to your fact situation. Your local bar association or the State Bar of Texas Lawyer Referral Information Service (1-800-252-9690) can assist you with locating an attorney.
Some of the electronic resources we refer to in this guide may be in PDF format.
Adobe Reader
or similar software is required to view PDFs.
If you need help with a reference question, you may ask a librarian...