If you have a TexLaw ID, you can check out an OverDrive eBook title or access our remote databases. Don't have a TexLaw ID? Texas residents can register for a TexLaw ID from home! Learn more about how to register from home.
Below Is an eBook title that may help you with your research on cancelling consumer contracts.
Know Your Rights!
Call Number: KFT 387 A4 2010
ISBN: 9781589794566
Publication Date: 2010
Richard Alderman is a University of Houston law professor who answers legal questions on the website, The People's Lawyer. This book is a compilation of some of the more popular questions and their plain English answers. The focus is primarily consumer law, covering topics such as applying for credit, contracts, the Deceptive Trade Practices Act, online sales, small claims court, family law, immigration, warranties, landlord and tenant law, and wills and probate.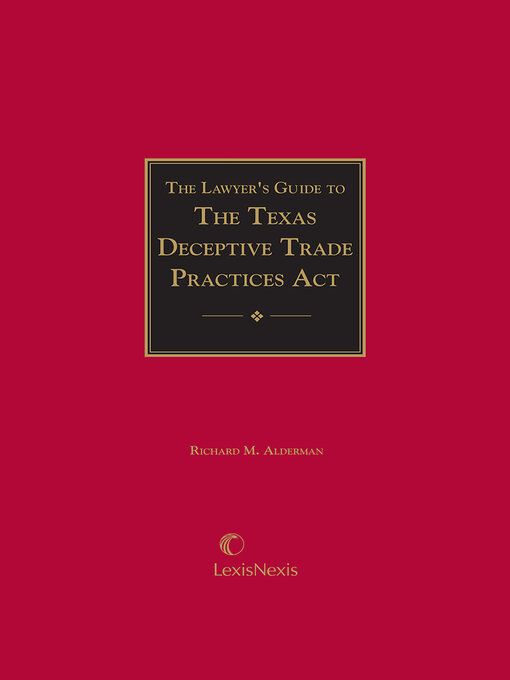 Lawyer's guide to the Texas deceptive trade practices act
Call Number: KFT 1609 A43 1999
Publication Date: 2013
This thorough treatment of the laws surrounding the Texas Deceptive Trade Practices Act contains the most current research. Coverage includes proper party plaintiffs and defendants, breach of warranty, unconscionability, the insurance code, and interaction with other laws. This annually update publication contains case law information and appendices containing historical version of the DTPA.
A statutory right to cancel a contract or return a purchase because you change your mind is NOT the norm in Texas. State law grants a "right of rescission" or "cooling off" period in only a few specific instances. If you do not see a statute that governs your particular situation, you may be bound by your agreement with the seller. Consult an attorney for more information about your right to cancel a contract or purchase.
Below you will find references to the Texas laws that govern the right to cancel certain consumer contracts. If you find these statutes difficult to understand, you may want to look at the "plain English" resources on this page or speak to an attorney.
Below you will find references to some of the federal laws that govern common consumer purchases. If you find these statutes difficult to understand, you may want to look at the "plain English" resources on this page or speak to an attorney.
12 CFR 226.23

This regulation from the Federal Reserve Board is part of the Truth in Lending Regulation Z. It provides for the cancellation information for extensions of credit which will place a lien on the homestead.

16 CFR 429.1

This regulation from the Federal Trade Commission discusses notice of cancellation for door-to-door purchases.
Explained in "Plain English"
Because Texas and federal law may not be easy to understand, below you'll find a collection of resources that help to explain the law in "plain English."
Legal Research Guides from the Texas State Law Library
The Texas State Law Library reference librarians have compiled legal research guides for specific areas of the law. These guides contain resources that can help you research a legal issue. The American Association of Law Libraries has a guide for Non-Lawyers on How to Research a Legal Problem. If you have any questions, please contact us at (512) 463-1722 or at library@sll.texas.gov.
Important:
The information provided on this page has been prepared for general information purposes only and should not be construed as, nor substituted for, legal advice. It is strongly recommended that you contact an attorney for advice specific to your fact situation. Your local bar association or the State Bar of Texas Lawyer Referral Information Service (1-800-252-9690) can assist you with locating an attorney.
Some of the electronic resources we refer to in this guide may be in PDF format.
Adobe Reader
or similar software is required to view PDFs.
If you need help with a reference question, you may ask a librarian...