If you have a TexLaw ID, you can check out an OverDrive eBook title or access our remote databases. Don't have a TexLaw ID? Texas residents can register for a TexLaw ID from home! Learn more about how to register from home.
Below is an eBook title that may help you with your research on grandparents' rights.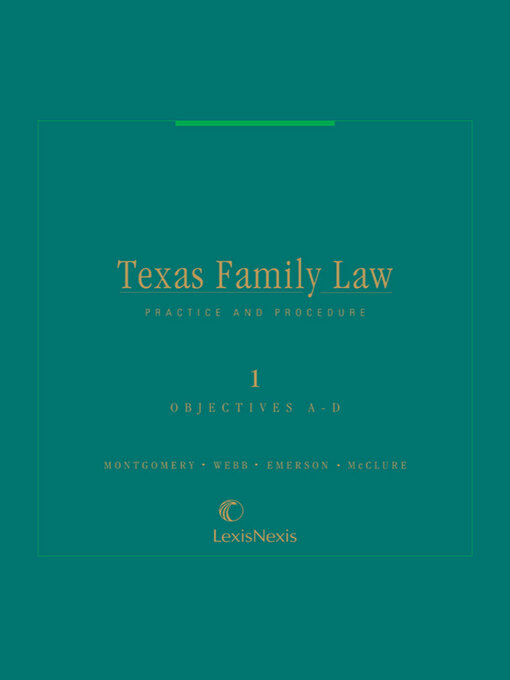 Texas family law practice and procedure
Call Number: KFT 505 F35 1997
Publication Date: 2014
Texas Family Law for the practitioner, covering Conservatorship and Guardianship, premarital agreements, divorce, custody issues, spousal support, grounds, and valuing community assets. Includes sample petitions and motions, including initial attorney-client documents, as well as references to the most current State Bar CLE materials, legal periodicals, and ALR Annotations.
Resources at the State Law Library
Below are some of the library resources that can provide further guidance on this topic. The Texas State Law Library has many other resources in addition to the highlights we present below. Please call us at (512) 463-1722 if you have any questions about these materials.
Child custody, visitation and support in Texas
Call Number: REF DESK KFT 547 T7 2008
ISBN: 9781572486560
Publication Date: 2008
A self-help child custody guide written in everyday language. It includes ready to use forms with step-by-step instructions. The guide provides a brief overview of child custody issues and how to research the law. It also discusses the role of an attorney and factors to consider when deciding whether or not to hire legal representation. While focused mainly on parent/child issues, grandparents are discussed throughout the title.
Grandparents' rights in Texas
Call Number: KFT 547 V47 2013
ISBN: 1450538053
Publication Date: 2013
This title by Texas attorney Jimmy Verner, Jr. looks at grandparents' rights in Texas. Specific chapters cover statute terminology, grandparents' rights under Texas law, Troxel v. Granville in the Texas Supreme Court, and Troxel v. Granville in the Texas Legislature.
Grandparents' rights: your legal guide to protecting your relationship with your grandchildren
Call Number: REF DESK KF 547 Z9 T78 2005
ISBN: 9781572485266
Publication Date: 2005
The purpose of this book is to help grandparents secure visitation or obtain custody of their grandchildren either with or without the aid of an attorney. Practical information is provided in plain English. This book tries to help you work with your grandchildren's parents to find the best solution. It will also help you identify when legal action is necessary.
If you need help with a reference question, you may ask a librarian...