If you have a TexLaw ID, you can check out an OverDrive eBook title or access our remote databases. Don't have a TexLaw ID? Texas residents can register for a TexLaw ID from home! Learn more about how to register from home.
Below are some eBook titles that may help you with your research on consumer protection.
Know Your Rights!
Call Number: KFT 387 A4 2010
ISBN: 9781589794566
Publication Date: 2010
Richard Alderman is a University of Houston law professor who answers legal questions on the website, The People's Lawyer. This book is a compilation of some of the more popular questions and their plain English answers. The focus is primarily consumer law, covering topics such as applying for credit, contracts, the Deceptive Trade Practices Act, online sales, small claims court, family law, immigration, warranties, landlord and tenant law, and wills and probate.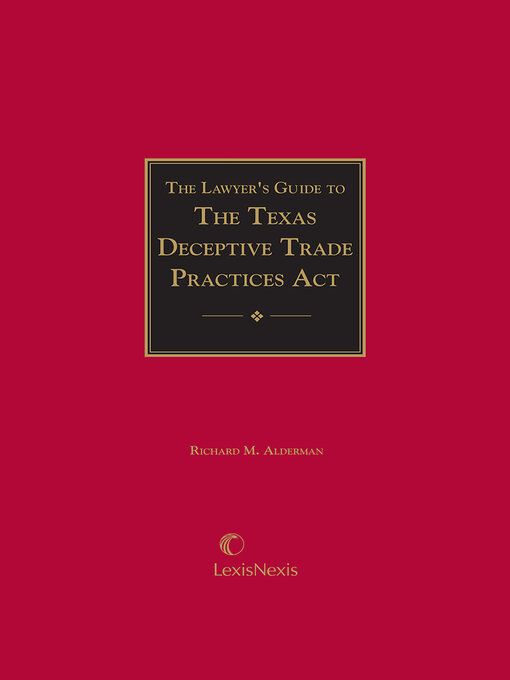 Lawyer's guide to the Texas deceptive trade practices act
Call Number: KFT 1609 A43 1999
Publication Date: 2013
This thorough treatment of the laws surrounding the Texas Deceptive Trade Practices Act contains the most current research. Coverage includes proper party plaintiffs and defendants, breach of warranty, unconscionability, the insurance code, and interaction with other laws. This annually update publication contains case law information and appendices containing historical version of the DTPA.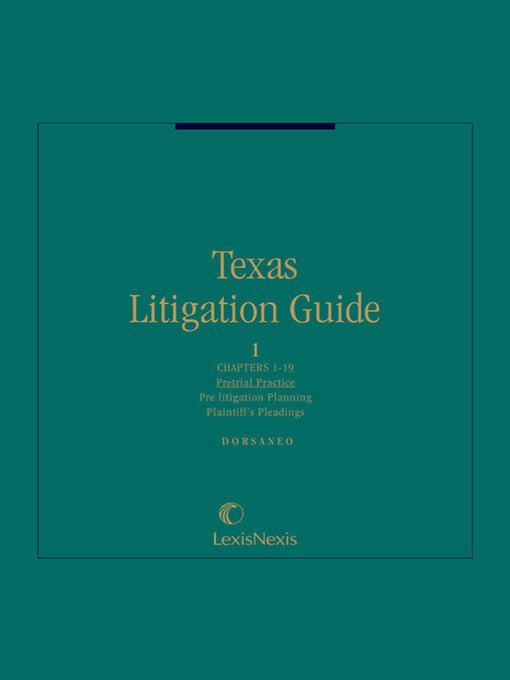 Texas litigation guide
Call Number: KF 170 D6
Publication Date: 2014
This comprehensive set explains the law and procedure in a given area and then provides drafting guides to prepare the forms. The set is divided into 10 different units: Pretrial Practice, Trial Practice, Appellate Practice, Pleadings in Business Entity Litigation, Pleadings in Commercial Litigation, Pleadings in Real Estate Litigation, Pleadings in Personal Injury Litigation, Family Code Litigation, Probate Code Litigation, and Administrative Proceedings. Chapters are divided into four parts: legal background on a topic, a drafting guide, forms, and a research guide.
Resources at the State Law Library
Below are some of the library resources that can provide further guidance on this topic. The Texas State Law Library has many other resources in addition to the highlights we present below. Please call us at (512) 463-1722 if you have any questions about these materials.
This guide was created to assist consumers research various consumer protection issues, including how to file a consumer complaint. There are consumer protection laws at both the state and the federal level, you can find information about both on this page.
The "Pro Se Resources" tab lists relevant laws, links to websites from different state and federal agencies that discuss consumer protection laws in "plain English," and information on filing complaints. The "Practice Aids" tab provides a list of Texas State Law Library resources that may be useful to practitioners working on consumer protection issues.
Below you will find references to areas of the Texas Business and Commerce Code and federal law that govern consumer protection and issues related to deceptive trade practices. If you find these statutes difficult to understand, you may want to look at the "plain English" resources on this page or speak to an attorney.
Explained in "Plain English"
Because Texas and federal law may not be easy to understand, below you'll find a collection of government resources that help to explain the law in "plain English."
Texas-Specific Consumer Protection Information
These resources also provide "plain English" information on the Texas laws which protect consumers.
Consumer Protection and Federal Law
These resources also provide "plain English" information on the Federal laws which protect consumers.
It is possible to file a complaint against a company that violates state or federal law with numerous state agencies, federal agencies, or nonprofit groups.
Legal Research Guides from the Texas State Law Library
The Texas State Law Library reference librarians have compiled legal research guides for specific areas of the law. These guides contain resources that can help you research a legal issue. The American Association of Law Libraries has a guide for Non-Lawyers on How to Research a Legal Problem. If you have any questions, please contact us at (512) 463-1722 or at library@sll.texas.gov.
Important:
The information provided on this page has been prepared for general information purposes only and should not be construed as, nor substituted for, legal advice. It is strongly recommended that you contact an attorney for advice specific to your fact situation. Your local bar association or the State Bar of Texas Lawyer Referral Information Service (1-800-252-9690) can assist you with locating an attorney.
Some of the electronic resources we refer to in this guide may be in PDF format.
Adobe Reader
or similar software is required to view PDFs.
If you need help with a reference question, you may ask a librarian...